9 ladies have shared their craziest one-night stand experience they had with men. The names of these ladies are unknown tho. I hope you enjoy it!

Disclaimer: Certain words were typed wrongly for a variety of reasons including to circumvent online censorship
Gbemisola, 25

" We hooked up at a club, after some kissing and smushing we went to one of the bathrooms within the club to have a quickie. We were still at it when 2 sets of people came in there as if it was planned. It was so awkward but everyone was minding their business. I wasn't comfortable throughout.

Augusta, 24

I was on a trip to my hometown, he was driving by while I was waiting to get a cab. He stopped and told me to get in which I did. he was so friendly and jovial. we made out for some munites before we agreed to go to his place that evening to end what we started. We got there, I wanted to pee so I rushed to use his bedroom toilet. That's how I heard him arguing with someone, I came out and the person was his wife, she beat me blue-black in his presence, he didn't even interfere. I left their place that night, dogs almost ate me on their street.

Julie, 26

I had just ended a 3y/o relationship so I went to a bar to drink. Lekan came to my table and we started talking. we never agreed to date neither did we plan to see after that night. I got to his apartment at Ajah where we made out. Around 5 am the following day, my ex called. Lekan got very angry and said how dare you to pick a man's call in my presence. I asked if I'm his GF, he slapped my hand and my phone fell and broke, we started fighting. He overpowered me and I had to call for help. When his neighbors came out, I found out he was a mad person that they always avoid in the compound.

Bolane, 25

A friend was looking for a girl to spend the night with a guy named Gideon who just came back from France, he asked if I'm interested and I found out it was offensive until I heard the amount of money he would pay. Gideon was a machine gun, I almost died before morning due to several rounds of sex. the following morning, I asked for my money and he said his bank app is messing up so he only had 3k Naira (43gh) cash. We dragged it till it was time to check out. We entered his car and he said if I don't collect this 3k and get out, I will find myself on blogs. I couldn't fight him before people start to think I'm a prostitute. I just collected the 3k and left. I'm still grieving.

Nkechi, 33

I and my friend did one of the craziest things during our 4th year in Uni, we rented an Airbnb with our boyfriends to spend the weekend. We decided to exchange boyfriends but it was going to be a one-night thing. My boyfriend and my friend started before us and the moaning sound they were making was distracting us. My friend's bf couldn't have an erection because he was restless, I was also worried because my boyfriend has never moaned so loud with me. Las las, we left the room and stood by their door, we barged in when it became unbearable and the matter turned into yam pepper scatter scatter which affected our relationships. I and my friends are married to different men now.

Adeola, 31

we met at a friend's party and we left to hang out at a bar. Our conversation at the bar was about sex, he told me about his sexual escapes and how he'll put me in 10 positions that night. I couldn't wait for him to knack my soul out of my body, so I initiated that we go to my apartment because it was closer. I was undressing when he said he was hungry, he ate, and before I could get back from the kitchen he had slept. I could get back from the kitchen he had slept. I was looking at him with disgust as he snores. I knew I had to go and sleep on the couch in the sitting room when he let out a long resounding stinky fart that almost brought down the roof.

Tola, 25

We weren't dancing so we decided to have a conversation, the noise in the club was too much for us, so we went inside the car to talk. One thing led to the other and we started making out in the backseat. he didn't have a condom and we were ready to risk it. Three mins into the sex, a bright light shone on our faces, it was his friend. He asked if he could even talk. That's how I had a threesome in a car.

Layo, 27

I met jimoh at a bar in lekki, I found him attractive and it was so obvious he did too. he moved closer to me, whispered in my ear and we drove off in his car to his apartment. he told me he loves to dominate and I gave him the green light. Jimoh started giving me head, 10 seconds into it, I pushed his head away and shouted: what did you eat?
He only had pepper soup and Smirnoff. I felt like someone rubbed fresh pepper on my coochie, I had to sit in a big bowl of cold water throughout the night.

Asabi, 27

This guy told me he's one of the unrecognized billionaires in Nigeria and I didn't even deny it after seeing his mansion in Ikoyi. we started having sex, 5 mins into the sex, we heard a heavy door and he became so scared. The door was forced open and a man in his late 50's entered, that's how this useless guy started saying oga please I can explain. Only for me to find out that he's the gateman of that house. Las, I had to sleep in his small room by the gate. he wanted to touch me again to continue what we started, the thing vexed me so tey I angrily bit his poverty-stricken hand.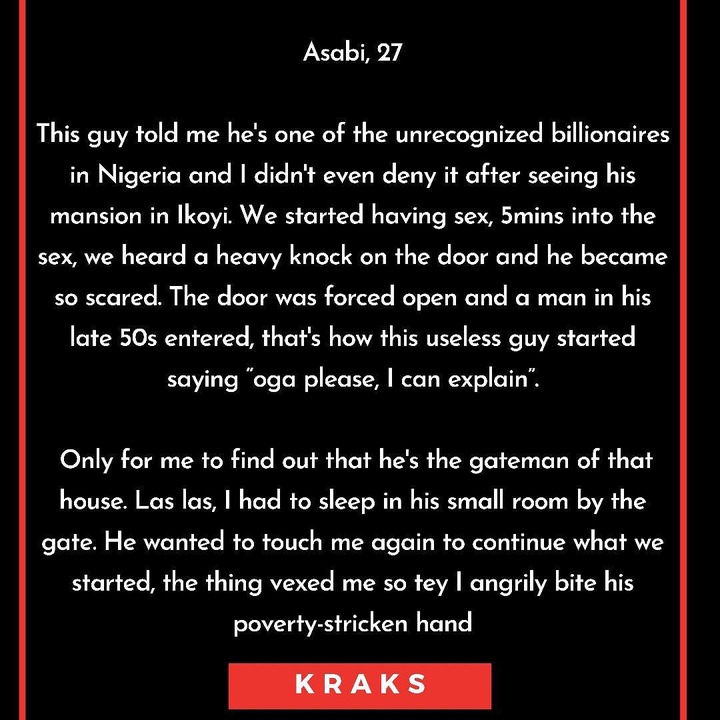 Comment your views, like, and share. Also, follow this channel to receive more updates